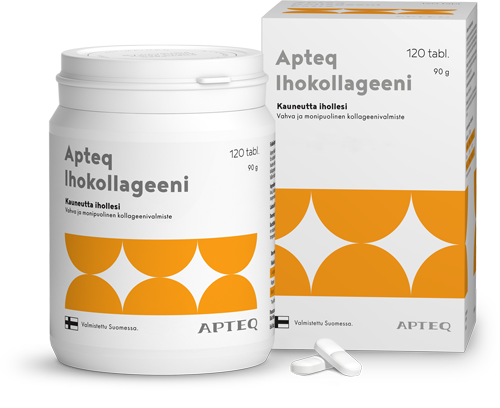 More information
Collagen comprises a significant proportion of the body's proteins and is found concentrated particularly in skin. The body's ability to produce collagen begins to deteriorate around the age of 25. As you age, your skin loses some of its elasticity, leading to common signs of aging, such as lines and wrinkles in the skin.
Skin Collagen is a well-balanced food supplement that is designed specifically to promote healthy skin. It contains:
Type I hydrolysed marine collagen. This broken-down form of collagen is easily absorbed in the intestines and transported throughout the body in the bloodstream, ensuring it reaches the skin.
Vitamin C, which promotes collagen production.
Biotin, which promotes healthy skin function.
Copper, which maintains the skin's normal pigmentation.
Apteq Skin Collagen is produced from high-quality ingredients and is fully lactose-, yeast-, gluten-, soy-, sugar- and gelatine-free.
Recommended daily dosage:
1–4 tablets per day for adults
The recommended daily dosage of 1–4 tablets contains:
Marine collagen 625–2,500 mg, vitamin C 20–80 mg 25–100%*, copper 0.25–1 mg 25–100%*, biotin 12.5–50 µg 25–100%* (*of the daily reference intake)
Ingredients:
Hydrolysed marine collagen, excipient (microcrystalline cellulose), anti-caking agent (cross-linked carboxymethyl cellulose and magnesium salts of fatty acids), ascorbic acid, cupric citrate, D-biotin.
Lactose-free, yeast-free, gluten-free, soy-free, sugar-free and gelatine-free
Warnings:
Do not exceed the recommended daily dosage. Does not replace a varied and balanced diet or a healthy lifestyle. Store in room temperature out of reach of young children.