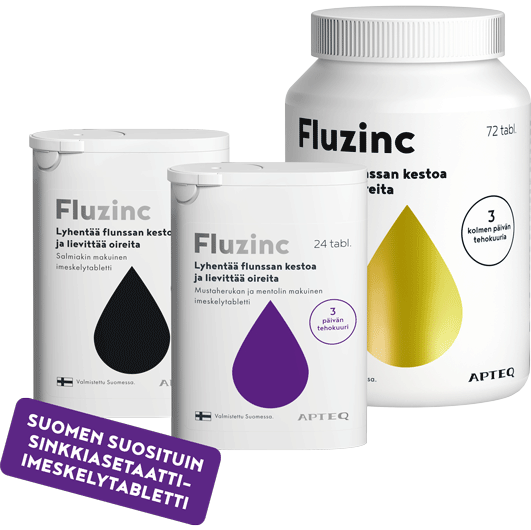 Fluzinc
Colds can be shortened and symptoms relieved if treatment is started as soon as symptoms appear. Fluzinc is an effective 3-day course for colds and flu-like symptoms. On average, colds can be shortened from 7 to 4 days and flu-like symptoms by an average of 36 %.
Buy directly from the following online pharmacies
More information
A 3-day power course for the common cold to speed up recovery and relieve cold symptoms.
Blackcurrant, salt liquorice or honey flavoured orally dissolving zinc acetate tablet.
The daily dosage of zinc during the course is 80 milligrams, with one tablet every two waking hours. This dosage is backed up by scientific evidence as the most effective way of reducing cold symptoms and cutting down the duration of illness from seven days to four.
Active substance: zinc acetate – backed up by research as the best form of zinc to treat the common cold.
Does not contain citric acid, lactose, gluten, soy, sugar or gelatine.
Made in Finland.
Dose:
For adults and children over 12 years of age: dissolve 1 tablet in the mouth every two hours during the day until symptoms are relieved. Start treatment as soon as symptoms appear.
Available in 3 flavours:
Blackcurrant, salty liquorice and honey
The recommended daily dose of 8 tablets contains:
Pregnancy and breast-feeding:
Consult your doctor about whether you can use the product during pregnancy or while breast-feeding.
Warnings:
Do not use if you are hypersensitive or allergic to any of the ingredients. Store out of the reach of children. If your symptoms worsen or last for more than a week, consult a doctor. Do not use the product if you suffer from mouth dryness. Possible side effects: Metallic taste, nausea and laxative effect.