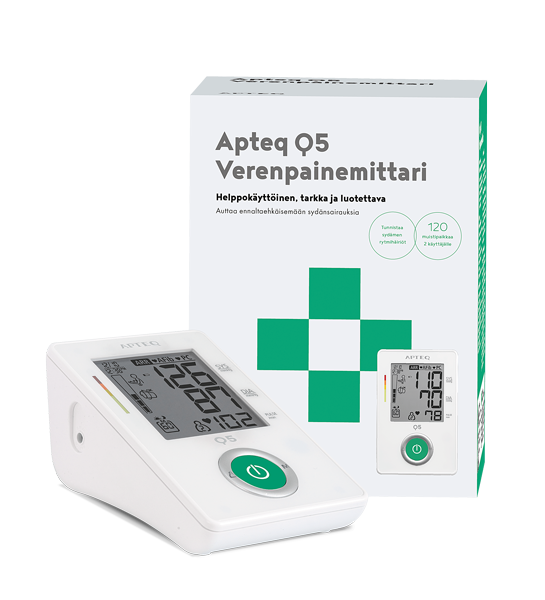 Apteq Q5 – Advanced blood pressure monitor with early stage stroke risk screening
Apteq Q5 is a new advanced and fully automatic blood pressure monitor for the upper arm. In a global first, the equipment has a clinically validated arrhythmia detection function (PARR).
Buy directly from the following online pharmacies
More information
When measuring, the meter usually quickly and easily detects an irregular heart rhythm (ARR) and carefully distinguishes between atrial fibrillation (AFib) and an extra stroke (PC). High blood pressure and arrhythmia are significant risk factors for several severe diseases. For example, the risk of stroke is five times greater for those with atrial fibrillation. In Finland, more than 100,000 people are affected by atrial fibrillation – almost half of them without knowing it.
Apteq Q5 offers an early detection of blood pressure disorders and the most common forms of arrhythmia, providing the possibility of seeking care at an early stage. In addition to this, it provides a simple and reliable follow-up method for use at home and a better quality of life for anyone with blood pressure or arrhythmia disease.
Technical information
Simple, fast and automatic measurement with just one tap
Identifies and distinguishes between the different arrhythmias in connection with blood pressure measurement: General arrhythmia (ARR) – Atrial fibrillation (AFib) – Extra stroke (PC)
Storage of 120 measurements for two users
Guest function (measurement without storing)
Displays average values for: the last three measurements and the morning and evening measurements for the last seven days
Automatic and optimal cuff filling
Indicates whether the cuff is sitting in the right position
Indicates measurement disruptions if the person has not been stationary when measurement is taken
Shows level of risk for blood pressure disease
Real Fuzzy technology: a more accurate result without uncomfortable pressure
Large and easy-to-read LCD screen
Contents
Apteq Q5 blood pressure monitor
Large universal cuff U-size 24-40 cm
The package also includes: carry case, replaceable batteries (4 x AA), instructions for use and power adapter