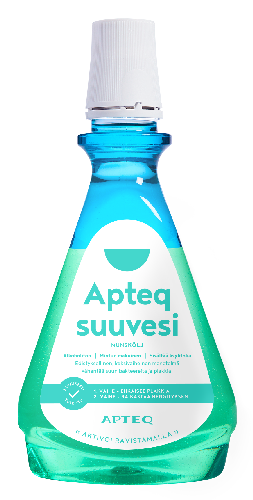 More information
Apteq Mouthwash can reduce plaque by up to 25% when used after brushing teeth.1 In addition, it has been shown to remove up to 98% more bacteria from simulated tooth surfaces than water, with competing products only able to remove 15–50% more than water.2
Apteq Mouthwash reduced foul-smelling volatile sulphur compounds (VSC) emanating from the mouth by up to 80%, while competing products were only able to achieve a reduction of 30%.2 The mouthwash also contains fluoride and xylitol to help prevent tooth decay.3
 A two-phase method ensures long-term protection for the whole mouth
Apteq Mouthwash is a unique oral hygiene product that is based on efficient two-phase technology. The product is activated before use by mixing together a water-based layer containing cetylpyridinium chloride (CPC) and an oil layer containing natural essential oils. The resulting active compound effectively attracts bacteria that may cause bad breath, plaque and gum disease and removes it, along with any food stuck in and between the teeth.4 After rinsing your mouth with the mouthwash, you will be able to see the pigmented and accumulated bacteria and impurities in the sink.4,5 As it contains oil, the mouthwash is also well suited for sensitive mucous membranes and helps moisten the mouth.
Apteq Mouthwash:
Freshens your breath for up to 18 hours.6
Removes bacteria and reduces plaque.1,2,4,7
Keeps your mouth from drying up.9,10
Contains fluoride and xylitol, reducing tooth decay.3
Reduces tartar formation and keeps your gums healthy.1,2
1.
Haps S, Slot DE, Berchier CE, Van der Weijden GA. The effect of cetylpyridinium chloride-containing mouth rinses as adjuncts to toothbrushing on plaque and parameters of gingival inflammation: a systematic review. Int J Dent Hyg. 2008 Nov; 6(4):290-303.
2.
Goldberg S, Rosenberg M. Bacterial Desorption by Commercial Mouthwashes vs. two phase oil: Water Formulations. Biofouling.1991; 3(3):193-198.
3.
Marinho VC, Higgins JP, Logan S, Sheiham A. Fluoride mouthrinses for preventing dental caries in children and adolescents. Cochrane Database Syst Rev. 2003; (3):CD002284.
4.
Hur MH, Park J, Maddock-Jennings W, Kim DO, Lee MS. Reduction of mouth malodour and volatile sulphur compounds in intensive care patients using an essential oil mouthwash. Phytother Res. 2007 Jul; 21(7):641-3.
5.
Preliminary Investigation; The Lord Zuckerman Research Centre, Reading, UK; 3rd February 2005
6.
Blistex Inc. Dentyl pH Kinetic Kill Study, October 2008
7.
Ilan O, Rosenberg M. Enhanced Antibacterial Activity of Cetylpyridinium Chloride in Oil: Water Mixtures. Journal of Dental Research. 1996 75(5)
8.
Kozlovsky A, Goldberg S, Natour I, Rogatky-Gat A, Gelernter I, Rosenberg M. Efficacy of a 2-phase oil: water mouthrinse in controlling oral malodor, gingivitis, and plaque. J Periodontol. 1996 Jun; 67(6):577-82.
9.
Yaegaki K, Sanada K. Effects of a two-phase oil-water mouthwash on halitosis. Clin Prev Dent. 1992 Jan-Feb; 14(1):5-9.
10.
Moran JM. Home-use oral hygiene products: mouthrinses. Periodontol. 2000. 2008; 48:42-53.
Dosage and how to use:
Activate by shaking before use. Use twice a day. Do not dilute. For best results, avoid eating and drinking for half an hour after use. It is normal for the mouthwash to become cloudy.
Active substances:
Cetylpyridinium chloride, sodium fluoride 0.05% (225 ppm F), xylitol.
Ingredients:
Water, isopropyl myristate, mint flavouring, sodium benzoate, xylitol, sodium saccharin, cetylpyridinium chloride, sodium fluoride, citric acid, sodium phosphate, CI 47005, CI 42090, CI61565, limonene, linalool.
Storage:
Store at room temperature.
Pregnancy, breastfeeding and children:
No known side effects concerning pregnancy or breastfeeding. The mouthwash is not suitable for children under the age of six.
Warnings:
Do not swallow. Avoid contact with plastics (polystyrene). No known incompatibilities with materials used in oral care.