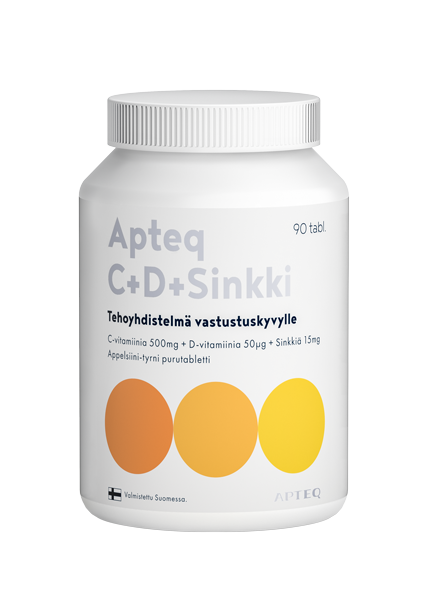 Apteq C+D+Zinc
The new Apteq C+D+Zink is a chewable tablet with a fresh taste of orange and sea buckthorn to boost the immune system.
Buy directly from these online pharmacies
More information
Effective combination that boosts the immune system.
500 mg Vitamin C, 50 µg Vitamin D and 15 mg zinc
orange and sea buckthorn chewable tablet
90 chewable tablets per container
One chewable tablet daily.
The recommended daily dose of 1 chewable tablet contains:
Vitamin C 500 mg 625 %*, vitamin D 50μg 1,000 %* and zinc 15 mg 150 %* (*of the daily Recommended Dietary Intake)
Warnings:
The recommended daily dose should not be exceeded. Does not replace a diverse and balanced diet or a healthy lifestyle. Store at room temperature out of reach of children. Excessive use may have a laxative effect. Contains sweeteners.