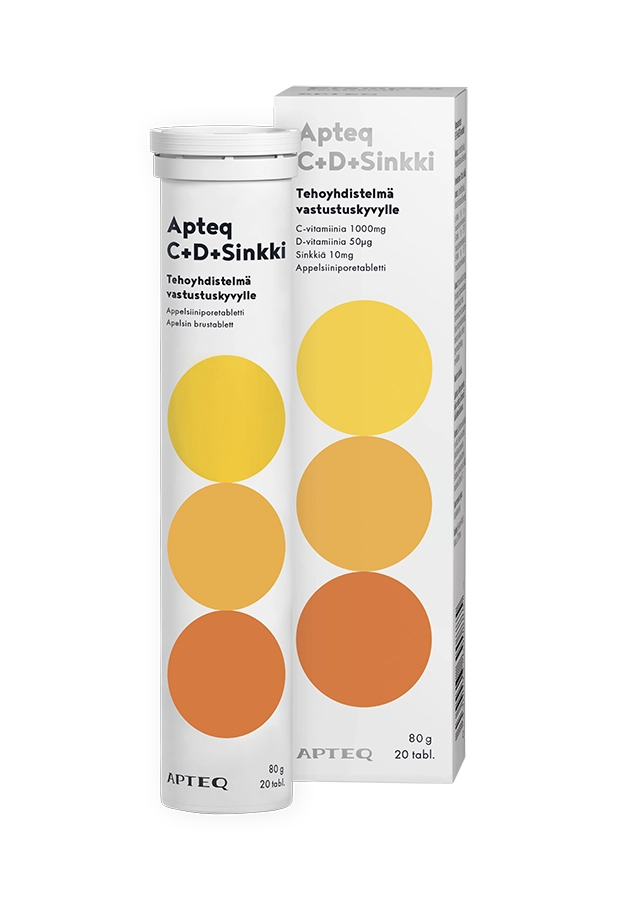 More information
For boosting immunity. Promotes the normal function of the immune system. Helps reduce fatigue and exhaustion.
1000 mg vitamin C, 50 µg vitamin D and 10 mg zinc
fresh orange-flavoured effervescent drink
20 tablets per tube
Recommended daily dose:
1 effervescent tablet/day. The effervescent tablet is dissolved in a glass of water.
The recommended daily dose of 1 effervescent tablet contains:
vitamin C 1,000 mg, vitamin D 50 µg and zinc 10 mg
Ingredients:
Acid (citric acid), L-ascorbic acid, acidity regulator (sodium hydrogen carbonate), maltodextrin, bulking agent (sorbitol), flavouring (orange), stabiliser (polyethylene glycol), sweetener (sucralose), zinc sulphate monohydrate, colouring (beta-apo-8′-carotenal), cholecalciferol preparation (D3).
Warnings
Dietary supplement. Do not exceed the recommended daily dose. Keep out of reach of small children. A dietary supplement is no substitute for a varied and balanced diet and a healthy lifestyle. Close the packaging tightly. Contains sweeteners.
Store at room temperature (below 25 °C).