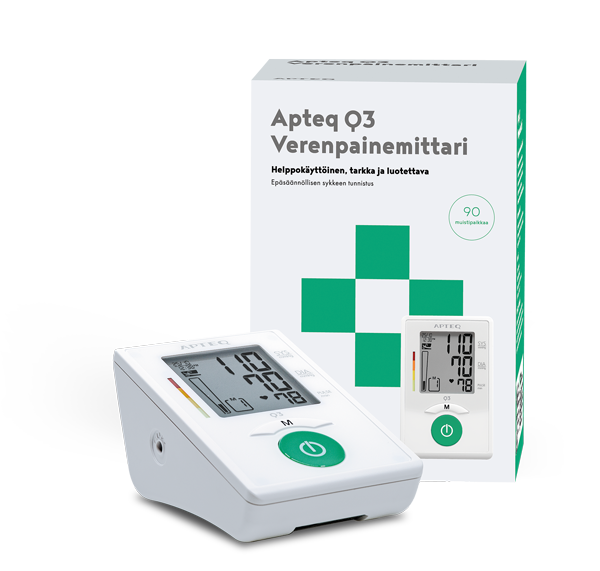 Apteq Q3 – High-quality blood pressure monitor with free power adapter included
Apteq Q3 is a high-quality, accurate and reliable automatic upper arm blood pressure monitor with basic features that make it appropriate for the whole family. Real Fuzzy technology enables more accurate readings without uncomfortable pressure. The blood pressure monitor informs you during measurement if your pulse is irregular or if your body motions have disrupted the measurement. It also displays how at-risk you are of high blood pressure. Apteq Q3 has been clinically validated, meaning its accuracy has been verified through independent clinical trials. Taking your blood pressure is extremely easy and can be done at the press of a button. You can also view the results of the last 90 measurements from the monitor's memory.
More information
Easy, fast and automatic measurement at the press of a button
90 memory slots for one user
Displays the average between the last three measurements
Automatic and optimal cuff use
Notifies the user if their body motions have disrupted the measurement
Displays how at-risk the user is of high blood pressure
Real Fuzzy technology: more accurate results without uncomfortable pressure
Large and easy-to-read LCD display
Package contents:
Large Universal cuff (24–40 cm), carrying bag, replaceable batteries (3xAAA), user manual and power adapter.
Accessories:
S (18–26 cm) and L (34–46 cm) cuffs