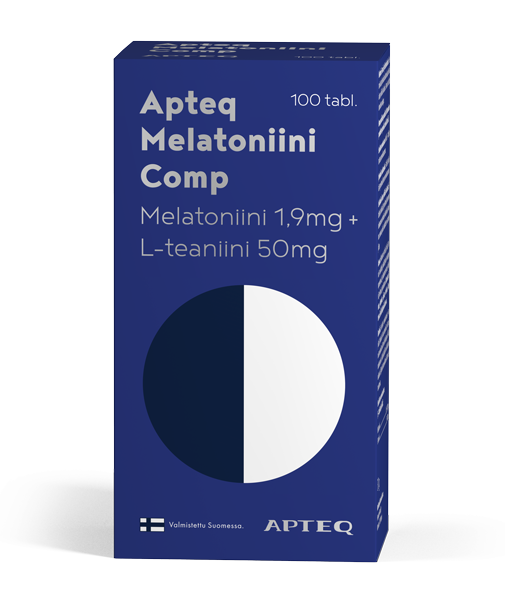 More information
The natural secretion of melatonin can be disrupted by factors such as stress, ageing, menopause, depression, a diet that is low on carbohydrates, insufficient exercise, jet lag and excessive consumption of alcohol. Disruptions in melatonin production often lead to difficulties sleeping and reduced sleep quality. Poor sleep quality most often manifests as restlessness or waking up during the early morning hours.
Helps you fall asleep – Strong and fast-acting melatonin
The melatonin in Apteq Melatonin Comp tablets is released quickly, helping you fall asleep faster. The best application of melatonin is in reducing the time it takes to fall asleep. One tablet contains 1.9 mg of melatonin.
Effect lasts until the early hours – Long-acting L-theanine
L-theanine, which continues to act until the early morning hours, achieves peak plasma concentration after approximately one hour.1 After this, L-theanine crosses the blood-brain barrier and achieves maximum concentration in the brain after approximately five hours.2 This means L-theanine is longer-acting than melatonin. Finally, L-theanine metabolizes efficiently into urine.3 One tablet contains 50 mg of L-theanine.
Made in Finland.
1
van der Pijl PC et al. Journal of Functional Foods. 2010 Oct; 2(4): 239-244.
2
Terashima T et al. Biosci. Biotechnol. Biochem., 1999; 63(4): 615-618.
3
Scheid L. et al. J Nutr. 2012 Dec;142(12):2091-6.
Dosage:
For adults, ½ to 1 tablet per day. Take 1–2 hours before bed, but no later than 11 p.m. Apteq Melatonin Comp is most effective when used regularly and taken at the same time across several consecutive nights.
Tablet:
Fresh, mint-flavoured chewable tablet. The tablet can be chewed, sucked or swallowed.
The recommended daily dose of ½ to 1 tablet contains:
Melatonin 0.95–1.9 mg and L-theanine 25–50 mg
Ingredients:
Sweeteners (sorbitol, xylitol), L-theanine, excipient (corn starch), surface coating agent (magnesium salts of fatty acids), melatonin, peppermint flavouring.
Warnings:
Contains sweeteners. Do not exceed the recommended daily dosage. Food supplements do not replace a varied and balanced diet or a healthy lifestyle. Store in room temperature out of reach of young children. Excessive use may have laxative side effects. Lactose-free, yeast-free, gluten-free, soy-free, sugar-free and gelatine-free. Does not contain animal products.
Pregnancy and breastfeeding:
Melatonin is not recommended during pregnancy or breastfeeding.