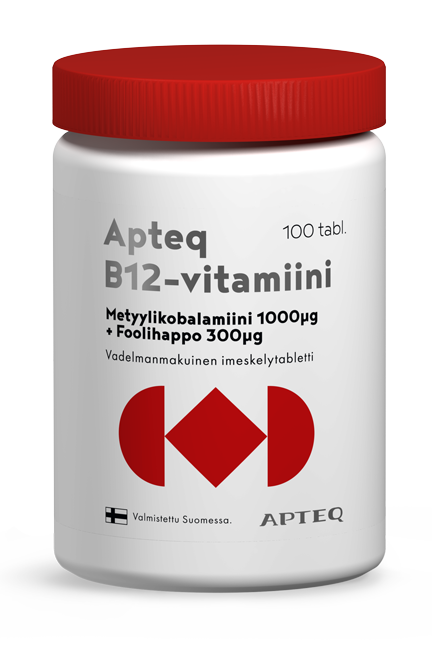 More information
Easily absorbable
Methylcobalamin is an easily absorbable bioactive form of vitamin B12. The methylcobalamin in Apteq Vitamin B12 is easily absorbed even when the body's production of intrinsic factor has weakened. Methylcobalamin is particularly well suited for people who are at risk of vitamin B12 deficiency due to intrinsic factor deficiency or another condition affecting the function of intrinsic factor. Such people include the elderly and those who use metformin medication.
Apteq Vitamin B12 also contains folic acid. Folic acid and vitamin B12 promote each other's functions in the body.
Pure
Methylcobalamin is a bioactive and pure form of vitamin B12. Apteq Vitamin B12 is free of cyanide compounds, lactose, yeast, gluten, soy, sugar and gelatine. Does not contain animal products.
Stomach-friendly
According to new research, what form vitamin B12 is in appears to have a significant effect on intestinal health and microbial balance in the intestines. Methylcobalamin is a recommended choice for intestinal health and microbial balance in the intestines.
Made in Finland.
Dose:
1 tablet daily for adults.
The recommended daily dose of 1 chewable tablet contains:
Vitamin B12 1,000 μg (40,000 %*) and folic acid 300 μg (150 %*)*of daily Recommended Dietary Intake
List of contents:
Sweeteners (sorbitol, xylitol), surface treatment agents (magnesium salt of fatty acids), methylcobalamin, flavouring (raspberry), pteroylglutaminic acid.
Warnings:
The recommended daily dose should not be exceeded. Dietary supplements are not a replacement for a diverse and balanced diet or a healthy lifestyle. Store at room temperature out of reach of children.
Pregnancy and breast-feeding:
There are no known side effects of Apteq B12 vitamin during pregnancy or while breast-feeding.