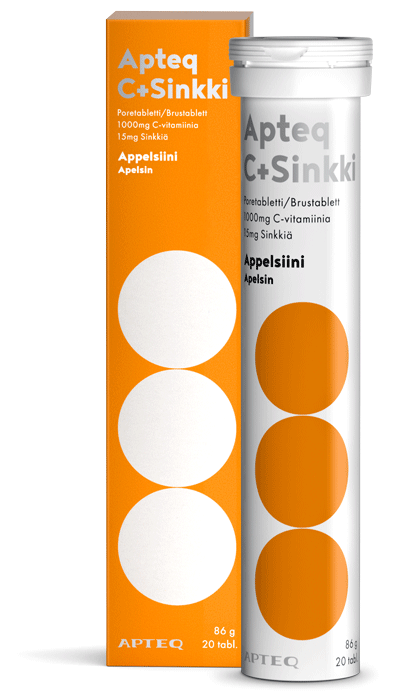 More information
Apteq C+Zinc is a fresh-tasting effervescent tablet that helps you maintain a strong immune system. Available in orange and blackcurrant flavours.
Designed for maintaining general and immune health.
1,000 mg vitamin C and 15 mg zinc
Sweetened with sucralose
One packet contains 20 effervescent tablets
Two flavours: blackcurrant and orange
The recommended daily dose of 1 effervescent tablet contains:
Vitamin C 1,000 mg 1,250 %*, zinc 15 mg 150 %* (*of daily Recommended Dietary Intake)
Contains no lactose, yeast, gluten, soy, sugar, gelatin. Contains no animal ingredients.
Warnings:
The recommended daily dose should not be exceeded. Does not replace a diverse and balanced diet or a healthy lifestyle. Store at room temperature out of reach of children. Close the packaging properly. Contains sweeteners.